Hey Funny Bunnies! 🐰 Easter falls on April 4th this year, so now's the time to stock those shelves with Hoppy treats personalized for your hometown Peeps! 🐣 Need help adding Easter-inspired candles to your Neighborhood collection? This blog post makes it as easy as 1-2-3!
1. Start with Scent!
From marshmallow chicks to chocolate bunnies, Easter 'tis the season for iconic treats. Channel the sugar rush by choosing one of these sweet scents from our fragrance menu:
No. 3 | Sandalwood & Vanilla
Peeps fans will swoon for this sweet scent!
No. 13 | Pear & Redwood
Are Jelly Beans your jam? You'll love this fruity fragrance!
No. 11 | Lemon Zest & Vanilla
Hungry Bunny? This one smells like lemon bundt cake!
No. 5 | Gardenia & Lily of the Valley
For a more traditional Easter sentiment, try this springy scent!
No. 18 |Lavender & Sweet Clover
Subtle yet sweet; a sophisticated floral scent.
2. Name Your Creation
Once you've picked a scent, it's time to give your personalized candle a name! What are your customers shopping for? From playful phrases to sincere sentiments, here's a shortlist of names you might consider:
Oh Hoppy Day!
Hoppy Easter
Peep Squad
Oh for Peeps Sake!
He is Risen
Funny Bunny
Somebunny Loves You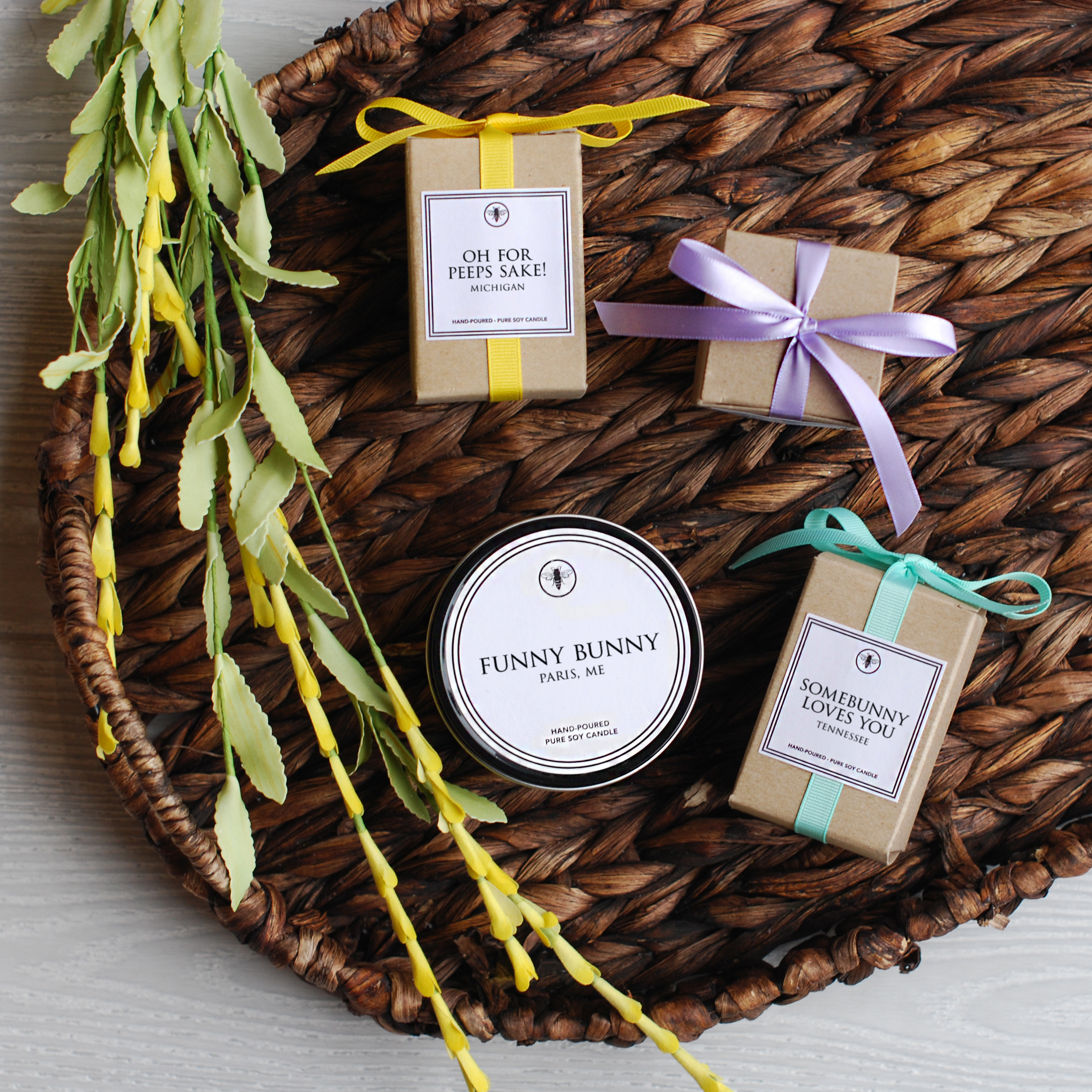 3. Finish with a Bow!
Neighborhood candles come wrapped with our standard black grosgrain bow.. but for your seasonal addition, why not swap it out for a pop of color? Here are some hues we heart for Easter:
Psst! Our Sidekick (3oz boxed votive) and Stowaway (8oz travel tin) are the perfect price for slipping into an Easter basket, so be sure to include these snack-sized options for bunnies on a budget!