How do YOU display Ella B. Candles in your store?
That's the question we invited our retail partners to answer with this past summer's Store Display Contest. We were overwhelmed by the amazing entries that we received — and by the creative ways that our retail partners display Ella B. Candles in their stores. (Check out contest winner Yours & Meyn, pictured above!)
With our second Store Display contest currently underway (go enter!), we couldn't think of a better time to explore the anatomy of a great store display. This week, we're sharing tips for displaying Ella B. Candles throughout your store — and throughout the seasons.

What's in a Name?
Before we can get into the nitty gritty of building a great store display for your Neighborhood candles, we think we should go back to where it all started: with a candle that needed a name.
When we poured our first batch of candles in 2011, we knew we had to pick a name just as fabulous as the fragrance we used. We thought it smelled expensive… so we called it 'Myers Park,' after the ritzy neighborhood in our native Charlotte, NC. The concept of naming candles after neighborhoods stuck. Soon our collection expanded to include other hot spots around our hometown, and just like that the Neighborhood Line was born.

The Local Candle… EVERYWHERE!
Today the Ella B. Candles Neighborhood Line can be found across the country, and the names of our favorite fragrances have been reimagined for countless locales. While the candle names may vary from town to town, the concept is always the same: local candles, personalized for wherever you are.
Whether we're working with a retailer in Beverly Hills, California or a small beach town in our home state of North Carolina, every Neighborhood collection begins with identifying the locations and places that matter most to your customers. That local flair — combined with our signature gift-ready packaging — is what immediately sets our candles apart.
We believe in Keeping it Local and empowering the small businesses and boutiques that sell our candles. One of the ways we do that is with complimentary store display signs, provided to every Ella B. Candles retail partner.
Thanks to their compact size and pop-out easel-back, our 'Shop Local' signs can be easily displayed anywhere in your store. Whether you use the sign as a centerpiece for your candle display, or to catch your customers' attention in other parts of your store, we've designed display signs that work for you!
Love at First Sniff
Locally-inspired names and gift-ready packaging set our candles apart on your shelf.. but great fragrance is what seals the deal. Our Neighborhood Line gives you 27 fabulous fragrances to choose from, and there's no limit to how many scents you can choose for your collection.
One of the top questions we get asked is — "what scents sell best?" Because we know it can be daunting to sniff through all 27 fragrance options when planning your opening order, we've tried to take out some of the guess work by highlighting our best-selling scents.
But here's the thing: scent is subjective, and your customers' preferences can change with the seasons. Pay attention to what (and who!) your customers are shopping for, and remember that your favorite fragrance might not be the scent your customers are shopping for.
Scents that Sell!
We know that a candle's scent is just as important as the name on the front of the box. After all, your customers will be burning this fragrance in their home long after they've tossed the box.
Since scent can be a deciding factor when purchasing a candle, we decided the fragrance deserved top-billing on our packaging. That's why we feature fragrance notes on the back label of every boxed candle.
Fragrance notes aren't just on the box to be informative; they're also a selling tool. Designed to mirror the style of our front labels, the fragrance note labels adhere to a clean, simple aesthetic.
Want to introduce a little variety in your store display? Flaunting the fragrance notes is another great way to catch your customers' attention, so consider alternating the boxes in your display to showcase the front and back labels.
Inspiration for Every Season!
Personalizing your Neighborhood line doesn't end with naming candles after local haunts. Every season brings a new opportunity to answer the call on your customers' gift-giving needs. Consider what occasions and holidays your customers are shopping for, then get creative!
From honoring the Graduating Class to welcoming Sweater Weather, make your Neighborhood collection the one-stop shop for unique gifts every season.
Seasonal offerings aren't just a great way to increase sales…they'll also keep your display fresh year-round!
'Tis the Season to Switch Things Up
Going beyond local with candle names isn't the only way to think outside of the box with your Neighborhood line! Our candles look fabulous when displayed together… but they won't get separation anxiety if you spread them out around your store.
Reach more customers and take the guesswork out of gifting by merchandising your season-specific candles with similar items in themed vignettes or displays.
Got a fall tablescape or holiday hostess gift station? Pop in a few of your fall bestsellers! Does your shop have a designated spot for birthday cards and quickie gifts? See if your Happy Birthday candles sell better there!
And don't forget stocking stuffers! Our tins and 3oz boxed votives make the perfect add-on, so consider displaying these merry little minis by the cash register to catch the eye of last-minute shoppers that might have otherwise missed them.
Making little moves can lead to big results, so don't be afraid to switch things up!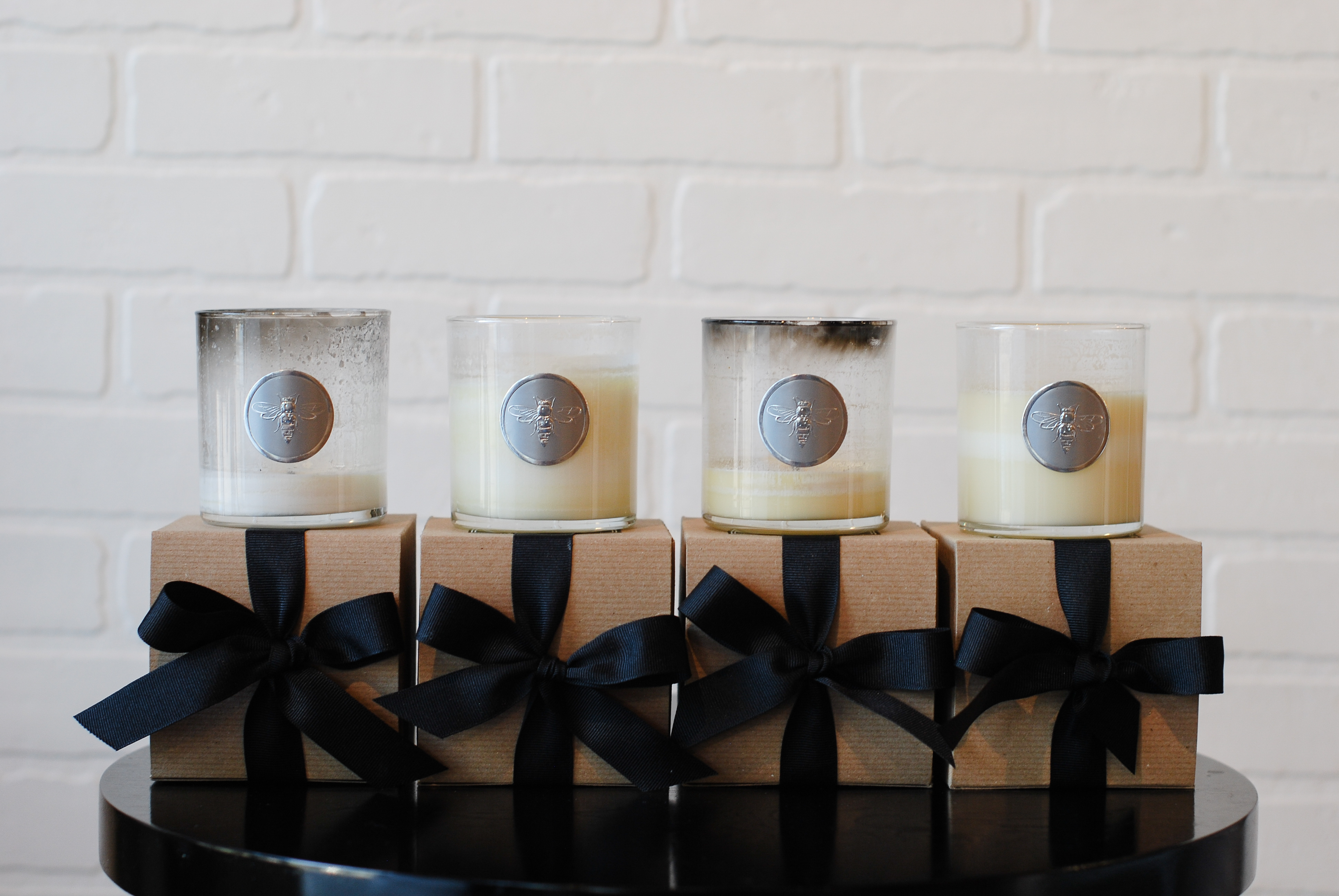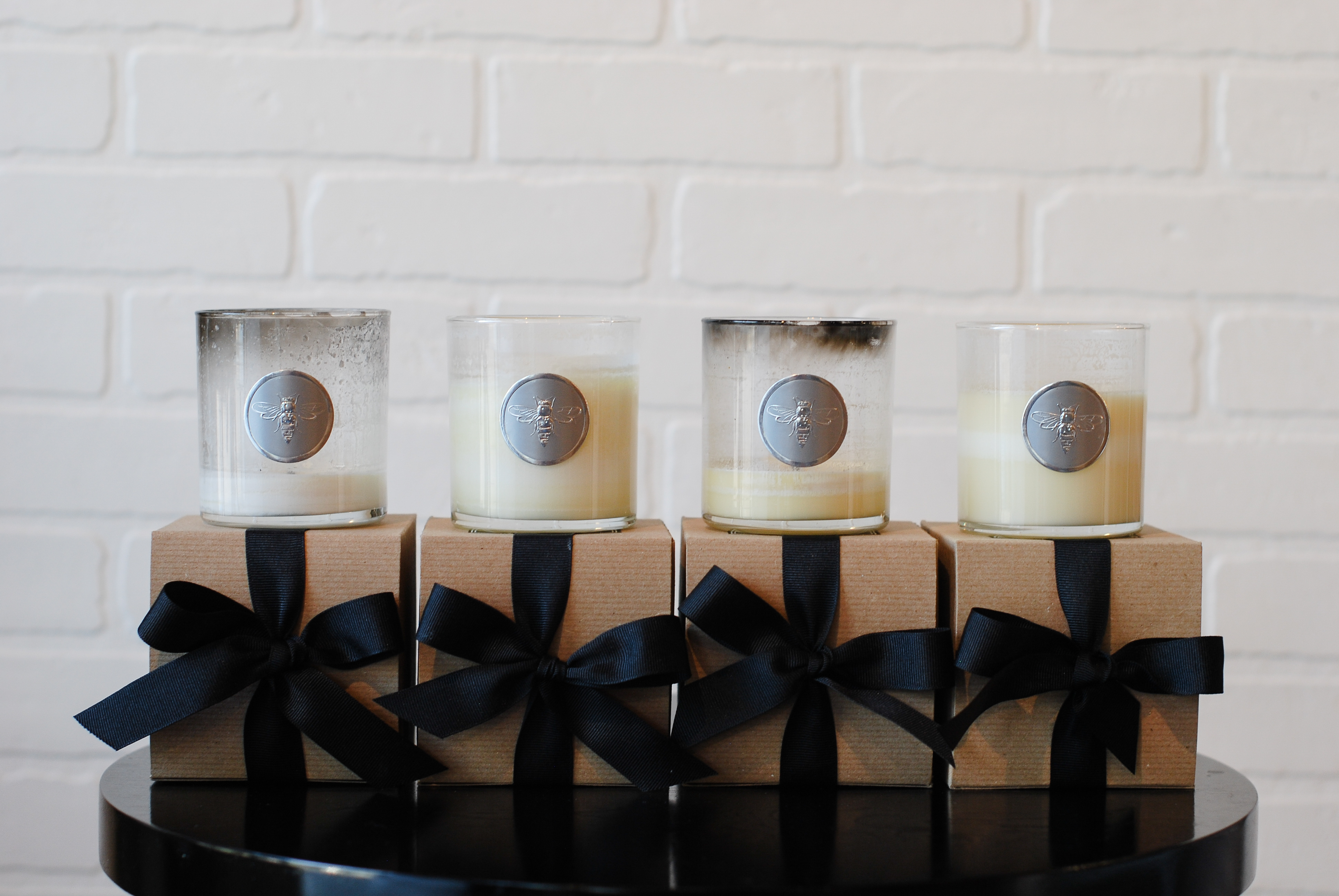 Keep it Fresh!
A great store display isn't just about the visuals. With Ella B. Candles you can catch your customers' attention before they've even caught of glimpse of your display! How? With testers!
We want your customers to fall in love at first smell, and that's why we encourage our retail partners to burn their testers in-store. Seeing (and smelling!) your Neighborhood candles in action can drive sales… and make your store smell great!
We've already stressed the importance of merchandising candles around your store, and the same suggestions apply to testers: place them strategically in locations where they can make the greatest impact on your customers.
Does your shop have a bathroom? Keep it smelling fresh with a tester! Are you a furniture store? Consider incorporating testers in the display for that new living room set. Sell bath or spa products? Add a candle to the display to set the mood for relaxation!
There are plenty of ways to get creative with testers, but keep in mind that fresh sells best! If your testers are looking worse for the wear, make a note of what scents need to be replaced — then be sure to include those the next time you reorder!